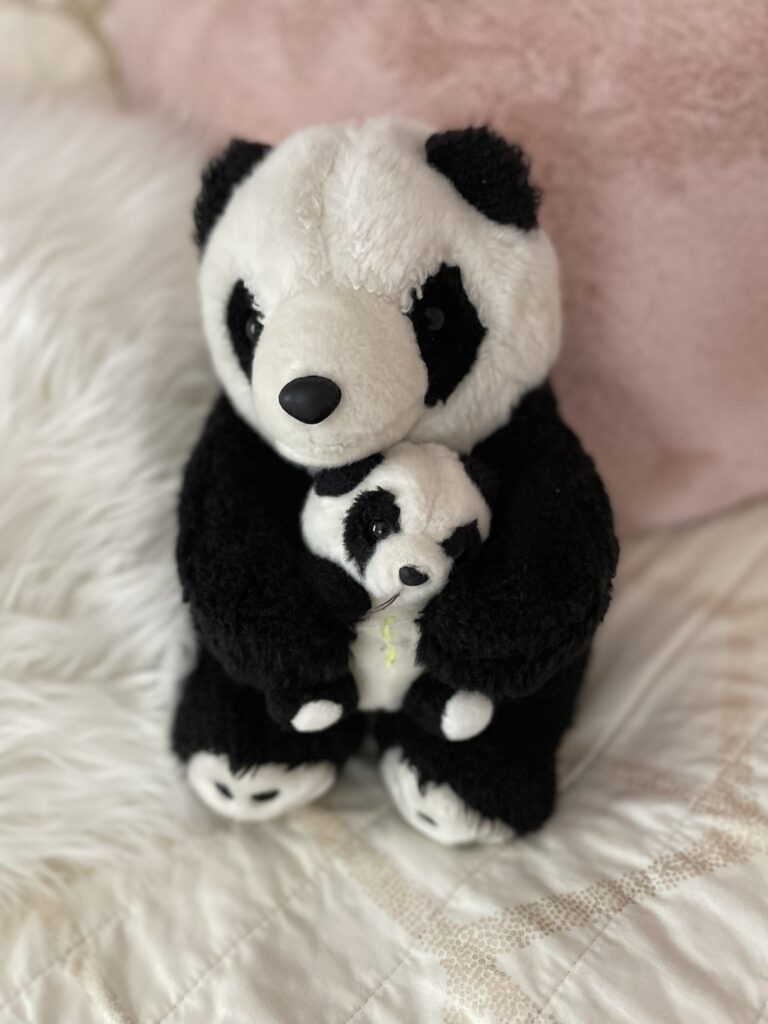 Baby Panda has gone missing again. I locate her next to a discarded sock under a throw pillow and replace her in the arms of her stuffed Mama. Mama and Baby joined our family years ago, a peace offering from my older children to their left-behind younger sibling upon their return from a school trip to China. They've held pride of place ever since, Baby glued and sewn into place in Mama's arms, the two of them the placid constant amongst a rotating cast of plush and fluff characters on our littlest one's bed.
Over the years, the glue holding Baby to Mama has loosened and a space has appeared as the thread holding Mama Panda's arms together has lengthened. Try as she might, Mama can't hold on to her Baby the way she once did. Baby keeps slipping away, only to be found under the desk or by the nightstand or, inexplicably, in the hamper, and replaced in Mama's tenuous grasp.
It is not my daughter who goes hunting for Baby Panda each morning. It is I, still the dogged daily bed maker, who slides Baby Panda under the thread and back into her mother's hug. That small act, replacing Baby in her rightful place, makes me feel as if everything is slightly more right in this wobbly world.
I have more time for the search now that I don't have many beds to make. Only one child left at home with a mother who, until recently, parented (often frantically) three. A mother whose kids have, over the years, expanded her grip so they could slip through. But also, a mother who was given the unexpected grace of a year in close proximity to these people who should not still have been tethered to home. A mother who simultaneously rejoiced and grieved as her young adults finally, happily, separated from her. Whose arms still ache to hold them, even as her hands are pushing them into the world. A mother who recognizes that now her youngest, for so long her constant companion, her "just you and me", is also beginning to wriggle free.
There will come a time when it will make sense to cut that last thread that holds Mama Bear's arms together and give Baby her freedom. But I don't think we're ready for that just yet. It's comforting to both my growing daughter and me that Baby has a place to return after her adventures. A place where she belongs and where she knows that when she's found (and she's always eventually found), Baby will be held secure, even if Mama's arms can't keep her close for long.